Fienen's totally tubular talk teaching techniques to transcribe
Date: Wednesday, May 29, 2019, 11:15 a.m. – 12:00 p.m.
Location: Glass 101 – Hutchens Auditorium
Categories: Content, Livestream, Media, Transcripts/captions, Usability
Audio transcription poses a unique combination of challenges that result in a high bar that content creators still struggle to get over. Despite the availability of steadily improving tools, we still fight in day-to-day content management to ensure audio content has text alternatives.
With some strategic planning and attention to process, we can aim to improve the transcription process for your content. We'll look at different ways to transcribe audio, the benefits and challenges automated tools present, and the broader usability benefits good transcription can offer you.
Session video
Speakers
Michael Fienen
Co-owner, nuCloud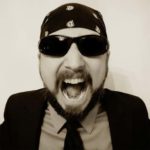 Michael Fienen is a career web developer who's been building sites since the dark ages of the 1990s, but chose to major in theatre in college, because he don't know why. What Michael did know was that having some hard skills to fall back on would be really important, since he likes doing things like… eating. He's worked on small sites, big sites, and now sites that help other web folks find jobs. Formerly the director of web marketing for Pittsburg State University, he's currently one of the co-owners of nuCloud, a senior developer at Aquent, and founder of The Drunken UX Podcast.